Pros-Terol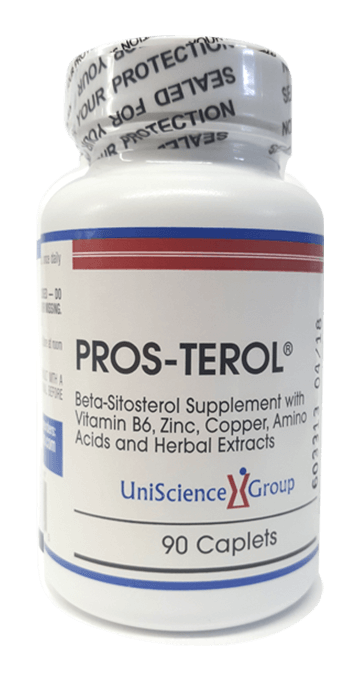 Reg Price: 124.99 Lowest Price: $39.95
3.5
Harold Rogan
Pros-Terol
Notorious for effective prostate treatment
Lists Amounts of All Sterols
Caplet Form
Labeled Exact Compound Ratios
*Results may vary on individual.
With the prostate supplement industry so congested with products containing cheap powders and useless fillers, it really stands out when a company goes the extra mile to add real quality ingredients. The Uniscience Group has done exactly that with Pros-Terol formula, and have included a healthy number of sterols, quercetin, and even pumpkin seed extract. The lab test results that the product produced weren't anything to laugh at either. The Beta-Sitosterol score came in at 361mg and a Total Sterol score of 756mg. What truly stands out, though, is the fact that Pros-Terol lists on their supplement facts the number of Beta-Sitosterol, Campesterol, Stigmasterol, and Brassicasterol in each serving size. This attention to detail proves that the Uniscience Group made a serious effort to not only include sterols as a main compound in their formula, but they ensured that a certain number of each sterol was allotted in each serving size. It seems pretty obvious that the people over at the Uniscience group were truly trying to make a powerhouse prostate supplement.
What other ingredients are included in the Pros-Terol Formula?
Sterols aside, it does seem that there was a lot of time and effort put into making the Pros-Terol formula. The formula includes a generous amount of quercetin, pumpkin seed extract, and a number of other beneficial ingredients to support prostate health. Additionally, Pros-Terol was intelligently designed using caplets, which some prefer rather than capsules, and even goes as far as listing the exact ratios for some of the extracts listed in their formula. It seems that the head of the scientific advisory board at the UniScience Group, Dr. David Blyweiss, really knows a thing or two about prostate health and prostate supplementation.
Final Breakdown of Pros-Terol.
Without a doubt, the Pros-Terol formula is a home run. It was able to score extremely high for its Beta-Sitosterol and overall Sterol scores, and the formula even lists the amount of each individual sterol included. To top it off, this intelligently formulated product provides numerous beneficial ingredients for prostate health, with precisely labeled amounts and ratios, and even provides it in caplet form. There is no question that Pros-Terol is a serious prostate supplement with a lot to offer.