Pros-T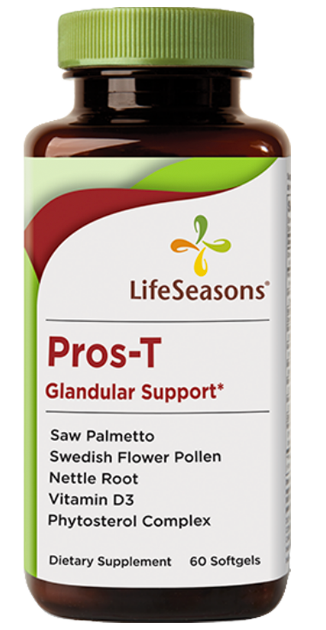 Reg Price: 89.78 Lowest Price: $29.95
3.5
Harold Rogan
Pros-T
Excellent Track-Record
Sold at Popular Health Foods Stores
Reputable Manufacturer
High Beta-sitosterol levels
*Results may vary on individual.
If you've ever wandered around a Vitamin Shoppe or Whole Foods, you've probably seen or heard about LifeSeasons. They have an excellent track-record at providing quality supplements that range from daily vitamins all the way to probiotic supplements and even sinus support supplements. After taking a closer look at their popular prostate supplement, Pros-T, it seems fairly obvious that they are making products that really work.
How does the Pros-T Formula compare to the rest?
Based out of Lewisville, Texas, LifeSeasons has really hit a home-run with this Phytosterol packed prostate support supplement. Pros-T has pulled some pretty impressive numbers in our lab tests, which is really no surprise when you look at the reputation that LifeSeasons has. Managing to cram 683mg of total sterols and 375mg of Beta-sitosterol is no easy feat, but Pros-T was able to do it. Beta-sitosterol is one of the most important ingredients in helping with many prostate issues, and is key in helping improve urinary flow and helping other symptoms such as dribbling. While many company's may say that their formula has a "strong" Phytosterol complex, most just put a cheap blend of sterols that only has a sliver of the important Beta-Sitosterol that is necessary. These lab scores show that LifeSeasons is really making an effort to have a powerful and effective formula, and that Pros-T is the real deal.
Final Conclusions for Pros-T
While the phytosterol Complex in Pros-T is impressive, it also contains a healthy number of other beneficial ingredients as well. LifeSeasons was able to incorporate a generous amount of Zinc, Selenium, and even Vitamin D3 into its formula. These active ingredients aren't only important to take in order to stay healthy, deficiencies in some of these ingredients are some of the potential causes that can lead to a number of prostate problems. Overall, it seems that LifeSeasons has really done their research when they produced Pros-T, and it is a prostate supplement that is no laughing matter.
Buy Pros-T Now